Advance Care Directives
Advance Care Directives - Your wishes for future care

The Legal Services Commission has partnered with SA Health to support Advance Care Directives www.advancecaredirectives.sa.gov.au

Although you may not like to think about it, there could be times in your life when you are unable to make a decision or properly communicate your wishes on how you would like to be cared for or treated.

It could be for a number of reasons including an accident or mental health episode, or an illness or injury.
If this happened to you, how would you want decisions to be made for you about your ongoing health care, living arrangements or other personal matters? Who would you want to make these decisions for you?
An Advance Care Directive is an important step forward in planning for health care. It allows you to:
write down your wishes, preferences and instructions for your future health care, end of life, living arrangements and personal matters; and/or
appoint one or more Substitute Decision-Makers to make these decisions on your behalf if you are unable to make them for yourself.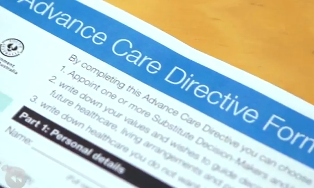 Having an Advance Care Directive can make it easier for others to know and act upon your wishes if they have to make decisions for you.

It can also give you peace of mind that your wishes will be known and be respected if you cannot make these decisions yourself.

The Advance Care Directives Act 2013 (SA) replaced Enduring Powers of Guardianship, Medical Powers of Attorney and Anticipatory Directions with one Advance Care Directive form. This change did not affect the validity of documents executed before 1 July 2014, but any new Advance Care Directive must be made with the new form.
For more information, or a step by step guide to help you complete and print your own Advance Care Directive Form please visit www.advancecaredirectives.sa.gov.au
Free Information Sessions
We can provide free information sessions about Advance Care Directives for community groups.