What's New
24 February 2023
South Australia's Legal Services Commission unveils artwork by Aboriginal artist Gabriel Stengle
The Legal Services Commission of South Australia has today unveiled a striking piece of Aboriginal art by Ngarrindjeri, Narungga, and Kaurna woman Gabriel Stengle at a gathering of Aboriginal legal stakeholders in Adelaide, attended by SA Attorney-General Kyam Maher.
Legal Services commissioned the artwork with Aboriginal Contemporary Artist Gabriel Stengle creating the outstanding work, which depicts Legal Services' commitment to the South Australian community.
Legal Services Commission CEO Gabrielle Canny said today's artwork unveiling and gathering of Aboriginal legal stakeholders reaffirms Legal Services' longstanding commitment to being an active participant in Australia's Reconciliation journey.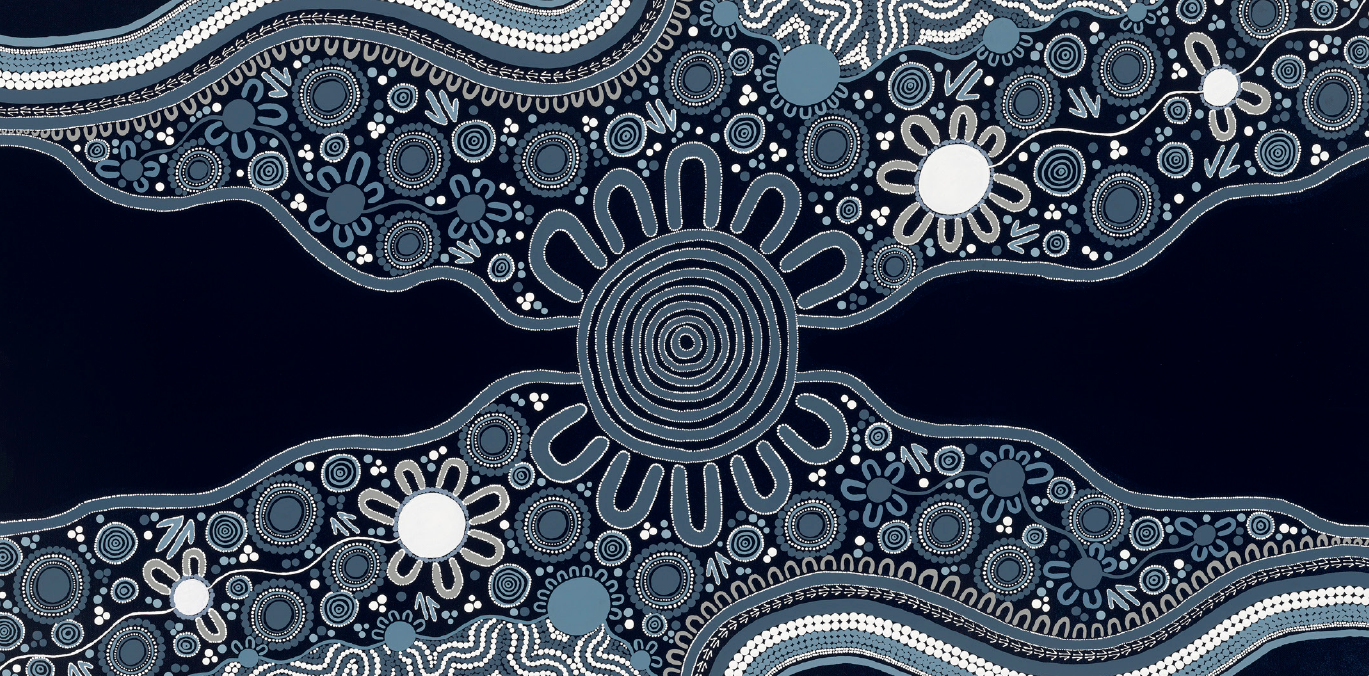 "We have a long and proud history of working with Aboriginal clients and stakeholders in all areas of our service delivery, and today is about reaffirming our commitment to ensuring we provide a culturally safe and inclusive place for Aboriginal people to work and access our services. This was demonstrated by the recent appointments of Legal Services' own Lana Chester and Natalie Browne as South Australia's first Aboriginal Magistrates," Ms Canny said.
"In respect of this amazing artwork, Gabriel Stengle has created a striking work of art which reflects the journey of Legal Services since its establishment, and we couldn't be prouder to display this art across our physical office locations and for features to be used in our everyday business activities.
"The story of this artwork depicts Legal Services as the central meeting place, connected to Journey Lines – The Journey represents our organisation as well as our staff and people who seek and need legal help.
"The surrounding watering holes represent the many locations where our services are accessed where people have equal access to justice wherever they may be. While the 'U' symbols represent people – the people who represent Legal Services as well as the many diverse communities across South Australia.
"And the Kangaroo prints throughout this piece represent our mission to always move forward and never backwards, to keep growing and be a voice for the community."
Today's gathering of key Aboriginal legal stakeholders included a Welcome to Country from Aunty Yvonne Agius, the 2000 National NAIDOC Aboriginal Elder of the Year, along with opening remarks from SA Attorney-General and Minister for Aboriginal Affairs Kyam Maher.
"It's very important for Legal Services to work closely with our partners in the Aboriginal justice sector on improving access to support programs and services to ensure justice is available to and accessible for all South Australians.
"Partnerships and collaboration in this space are vital, and that's why it was pleasing to have so many people in the room today who share the common goals of improving access to justice and delivering better outcomes for Aboriginal people."
Organisations represented at today's stakeholder event included the Aboriginal Legal Rights Movement, the Attorney-General's Department, Family Violence Legal Service Aboriginal Corporation, Community Legal Centres and Commissioner for Aboriginal Children and Young People.
Legal Services is the largest legal assistance organisation in South Australia.
Media contact: Simon Halliwell – 0421 611 856