Legal Health Check-Up Resource

The Legal Services Commission has just released its latest legal education resource designed to assist the public prioritise potential legal concerns.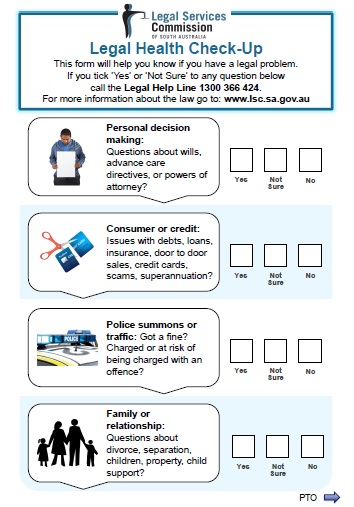 The check-up quickly pinpoints a range of common legal problems – ranging from fencing disputes to funeral policies to phone scams, as well as domestic violence matters, wills and workplace bullying.

Individuals are encouraged to consider questions about their 'legal health' on this form and if they identify any issues to call the Legal Help Line.

DOWNLOAD

The new resource form produced by the Commission - can be downloaded here.

TRAINING SESSIONS

Information workshops are also available which detail how this new resource sheet can be used in an information session setting.



Please email Legal Education Officer Melanie Robinson to discuss a free Legal Health Check-Up training opportunity.