Browse Publications
Intervention Orders (During COVID-19) Factsheet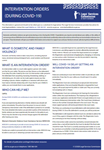 PDF download 182 kb
This information is general and should not be relied upon as a substitute for legal advice. The Legal Services Commission provides free advice for most legal problems. Contact the Legal Helpline on 1300 366 424 www.lsc.sa.gov.au www.lawhandbook.sa.gov.au
What is domestic and family violence?
Domestic and family violence takes many forms, including physical injury, emotional and psychological harm, social isolation and financial control.
What is an Intervention Order?
An intervention order is a court order against a person who makes you fear for your safety. The person you fear (known as the defendant) must obey the order made by the court. An intervention order prevents the defendant from assaulting, harassing, threatening, stalking, or intimidating you. An order can be made against anyone you fear including a spouse, relative, neighbour or someone with whom you have had an intimate relationship with. If you fear for your children's safety, you can include them in your application.
Who can help me?
SAPOL
During COVID-19 SAPOL are continuing to issue Interim Intervention Orders.
If you are experiencing domestic or family violence you should call police immediately. The police have the power to issue an interim (temporary) intervention order if the defendant is present or in custody. The more detailed information you provide to police of the domestic or family violence you have experienced, the easier it is for police to act. Police may also decide to lay criminal charges against the defendant after hearing your story.
Women's Domestic Violence Court Assistance Service (WDVCAS)
WDVCAS is continuing to provide services during COVID-19. Services are being provided by telephone at 1800 246 642.
If police are unable to proceed with an intervention order, WDVCAS may be able to assist you in obtaining a private intervention order.
WDVCAS is a specialist legal service, operated by the Legal Services Commission, providing support to women affected by domestic and family violence. Women can receive free legal assistance to navigate the Magistrates court processes of applying for, changing, or removing an intervention order. Assistance can also be provided in reporting breaches of an intervention order.
Will COVID-19 delay getting an Intervention Order?
NO. Police are continuing to issue intervention orders to provide you with protection. If you fear for your safety you should report it to police immediately.
The Magistrates Court are continuing to accept private intervention order applications. If an out of pocket filing fee is required the Court registry will accept payment by debit or credit card. They are currently not accepting cash or cheque.
The Magistrates Court are continuing to list hearings for intervention orders within the usual timeframes. This hearing is for a Magistrate to review your application and decide if there is enough evidence to issue an interim (temporary) intervention order. The Courts have introduced limits on the number of people allowed in the court room. This may mean support persons will not be permitted in the court room.
The Police are continuing to issue defendants with intervention orders during COVID-19. Once the defendent is served, you will be protected.
The defendant is still required to attend Court at a set date to advise the court if they agree or disagree with the order. The Magistrates Courts are continuing to list these hearings without delay.
If the intervention order cannot be resolved by consent between the parties then a trial will be listed for the Court to decide if the final order should be made. The Court is currently assessing each matter on a case by case basis as to whether a trial will proceed during COVID-19. If a trial is delayed due to COVID-19 the interim intervention order remains in place and you remain protected.
Do I have to go to court?
You may not need to go to court. You should speak with police or WDVCAS about whether you need to be at court.
Can I change an existing Intervention Order?
YES. You will need to apply to the Magistrates Court for a change in an intervention order. This has continued through COVID-19. WDVCAS can provide you with advice about making a change to an intervention order.
Will I be fined for leaving my home?
NO. If you have to flee your home due to domestic or family violence police will not issue a fine for breaching self-isolation directions. You are able to leave your home for essential purposes.
How can I get help?
For free information, advice and referrals call the Free Legal Helpline - 1300 366 424.
Specialist advice on intervention orders call WDVCAS - 1800 246 642 or complete an enquiry form
Other useful contacts:
SAPOL - Police Emergency 000
Non-urgent Police Assistance - 131 444
COVID-19 Information for South Australians website
South Australian Domestic Violence Crisis Line – 1800 800 089
Homelessness Gateway - 1800 003 308
Emergency Relief Call Centre – 1300 705 336
Women's Information Service (WIS) – 8303 0590
SA COVID-19 Mental Health Support Line - 1800 632 753
18 May 2020