Browse Publications
Housing & Domestic Violence (During COVID-19) Factsheet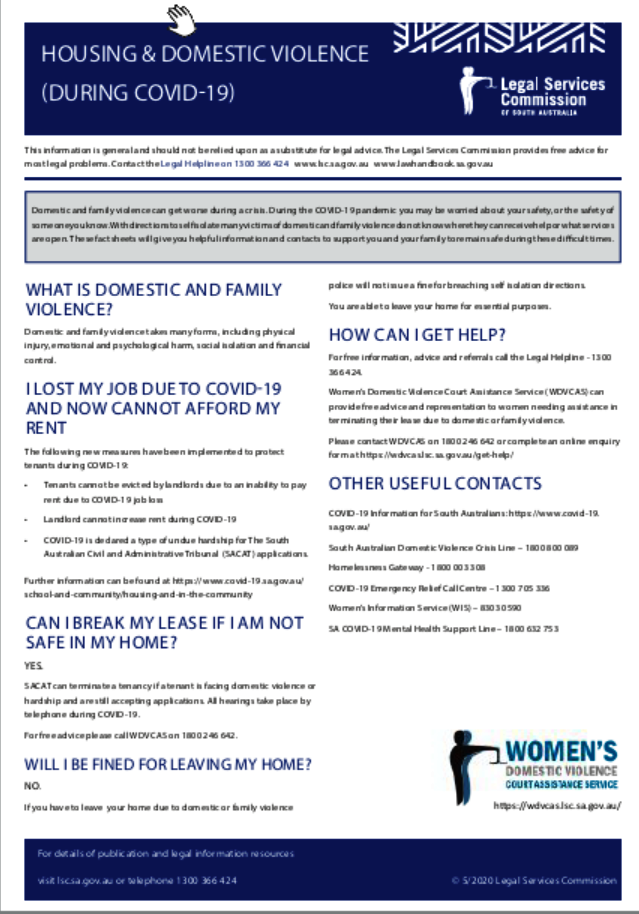 PDF download 134 kb
This information is general and is not a substitute for legal advice. The Legal Service Commission provides free advice for most legal problems. Contact the Legal Helpline on 1300 366 424
What is Domestic and Family Violence?
Domestic and family violence takes many forms, including physical injury, emotional and psychological harm, social isolation and financial control.
I lost my job due to COVID-19 and now cannot afford my rent
The following new measures have been implemented to protect tenants during COVID-19:
Tenants cannot be evicted by landlords due to an inability to pay rent due to COVID-19 job loss
Landlord cannot increare rent during COVID-19
COVID-19 is declared a type of undue hardship for The South Australian Civil and Administrative Tribunal (SACAT) applications
Further information can be found here.
Can I break my lease if I am not safe at home?
YES. SACAT can terminate a tenancy if a tenant is facing domestic violence or hardship and are still accepting applications. All hearings take place by telephone during COVID-19.
For free advice please call WDVCAS on 1800 246 642.
Will I be fined for leaving my home?
NO. If you have to leave your home due to domestic or family violence police will not issue a fine for breaching self isolation directions. You are able to leave your home for essential purposes.
How can I get help?
For free information, advice and referrals call the Legal Helpline - 1300 366 424.
Women's Domestic Violence Court Assistance Service (WDVCAS) can provide free advice and representation to women needing assistance in terminating their lease due to domestic or family violence.
Please contact WDVCAS on 1800 246 642 or complete an online enquiry form.
Other useful contacts:
COVID-19 Information for South Australians website
South Australian Domestic Violence Crisis Line - 1800 800 089
Homelessness Gateway - 1800 003 308
COVID-19 Emergency Relief Call Centre - 1300 705 336
Women's Information Service (WIS) - 8303 0590
SA COVID-19 Mental Health Support Line - 1800 632 753
18 May 2020